MOT Test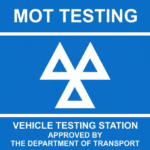 Are you looking to MOT your vehicle? Our team at Motorrific are here to help. We have an MOT test ramp installed at our garage in Loverock Road, off Portman Road in Reading. We have a seating area where you can wait and watch our certified mechanics complete your MOT test with a tea or coffee.
The MOT test was set up way back in 1960, and is a legal requirement. If your car needs one and doesn't have it, you face a £1000 penalty, as well as being unable to renew your road tax and almost certainly invalidates your car insurance, which risks a further 6-8 penalty points and, in turn, invalidates any claims should you be involved in an accident.
It is a visual check only – examiners are not allowed to change or remove anything on your car, which is why you still need a service.
Class 4 MOT is the most common type of test, here is a guide to vehicles that need to get a Class 4 MOT:
Cars that carry up to eight passengers
Motor caravans
Three-wheeled vehicles that weigh more than 450 kg
Quads that are a maximum of 400 kg of unladen weight
Goods carrying quads with a weight limit of 500 kg and maximum net power of 15 kw
Dual purpose vehicles
Private hire and public service vehicles with up to eight seats
Ambulances, taxis and private passenger vehicles
Class 7 MOT is required for the following type of vehicles
:
Commercial goods vehicles that weigh between 3,000 kg and 3,500 kg
If you are unsure how much your vehicle weighs, you can identify the weight by looking in the vehicle handbook. Alternatively, you can contact the customer service team for your vehicle by calling the number provided in your logbook and you will need to give them details about the vehicle such as the year, make, model and VIN, and they will provide you with the information you need to book the appropriate MOT class.
Some vehicles are exempt from needing an MOT:
Cars under three years of age
Cars and motorcycles made before January 1, 1960
Motor tractors
Electric goods vehicles
Private hire vehicles or hackney carriages that are taxed by local authorities
Vehicles that are provided for police user and are maintained in an authorised workshop
WARNING: Regardless of the above, all vehicles must be in a roadworthy condition!
These are the most important facts you should know:
It's necessary on a vehicle's third birthday, then annually.
It includes an extensive list of internal and external checks.
Here is a list of the most important checks carried out: MOT Checklist